What is Mixed Martial Arts?
Mixed Martial Arts (MMA) is a combat sport that was made famous by the UFC. It was created to answer the question, "What is the best martial arts?" Through empirical evidence of over 200 hundred events the data has suggested that success in hand to hand combat comes from a proficient understanding of the 4 phases of fighting which are striking, clinching, wall clinching and ground.The confinement of the caged octagon has created 4 distinct phases of fighting: shoot boxing, clinching, wall clinching and ground fighting with strikes allowed. In the shoot boxing phase of MMA individuals are allowed to strike and takedown their opponents.
The styles of Martial Arts that have found success in this phase are Muay Thai, Boxing, Kickboxing, Karate and Free Style Wrestling. The Martial Arts that have found success in the Clinching phase of MMA where opponents are allowed to grab and strike each other are Brazilian Jiu-Jitsu, Greco Roman Wrestling, Muay Thai, Free Style Wrestling, Judo and Dirty Boxing. Wall clinching is the phase of MMA where opponents use the structure of the caged fence to pin there opponent and unleash strikes in the clinch, takedown opponents in the clinch and the use the cage as wedge to pin a opponent on the ground while initiating strikes or setting up submissions. The Martial Arts that have found success in this phase of MMA are Greco Roman Wrestling, Free Style Wrestling, Muay Thai, Judo, Brazilian jiu-jitsu and Dirty Boxing.
The last phase of MMA is Ground fighting where opponents establish dominant positions of control to deliver strikes or set up submissions. Therefore, using Martial Arts such as Brazilian jiu-jitsu, Muay Thai, Kickboxing, Boxing, Karate, Free Style Wrestling, Greco Roman Wrestling and Judo in combination will lead to a higher rate of success in the combat sport of MMA.
Our academy teaches MMA in digestible chunks, introducing and developing a proficient understanding of specific individual martial arts, primarily Muay Thai, Brazilian jiu-jitsu, Kickboxing, Boxing, Karate, Free Style Wrestling, Greco Roman Wrestling and Judo. Then slowly combine these Martial Arts in specific transition, positions and scenarios through drills and controlled sparring until student are proficiently versed in the 4 Phases of MMA.
Norwalk's premier MMA studio
Exciting reasons why you should learn Mixed Martial Arts: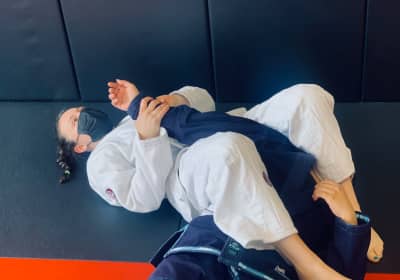 Develop Martial Arts Skills That Can Be Used In The 4 Phases Of Fighting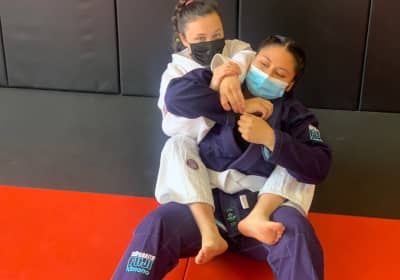 Develop The Confidence To Defend Yourself Anywhere A Fight Ends Up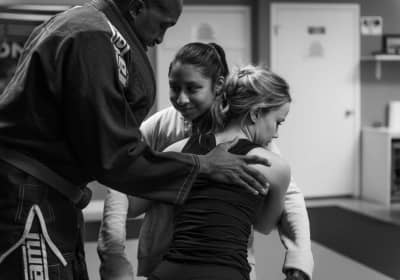 Create New Skills From The Core Component Of Specific Martial Arts To Defeat An Opponent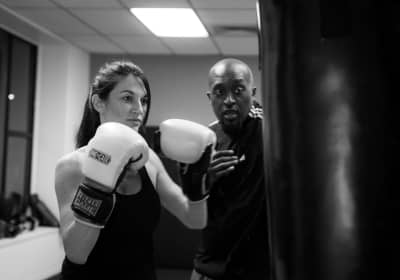 Develop The Physical Fitness Required To Sustain The Sport Specific Activity Of A Mixed Martial Arts Competition
Norwalk's premier MMA studio
Take a glimpse inside Jonesly MMA
Jonesly holds a Black Belt in Brazilian Jiu-Jitsu, a Black Belt in Static's Complete Martial Arts and a brown belt in Tae Kwon Do. As a dynamically trained fighter, Jonesly simply has a passion and appreciation for the vast variety of fighting styles in the world of Mixed Martial Arts. As a Martial Arts Instructor, Jonesly's goal is always to keep learning so he can give his students his best, a quality learned from his studies over the past 21 years. Jonesly notably has gained knowledge from distinguished teachers such as the late Master Curtis Battle, Professional Boxing trainer Reginald Ford, World Champion Muay Thai fighter Kru Luis Maisonet, Jr., New York State/Tri-State USMTA Muay Thai Champion Kru Esteban Maisonet, Former Ultimate Fighting Championship Welterweight Champion Matt Serra and Cage of Fury Champion Nick Serra.
Jonesly MMA of Norwalk CT
Trusted & experienced from beginner to expert
Learning multiple styles of martial arts has shaped Jonesly's approach to teaching. His philosophy is "no one method is better than the other; and if applied correctly they are all equally valid." This is done by teaching students specific principles behind each technique taught. For Jonesly it is important to meet students exactly where they are today and guide them to where they want to be tomorrow. Jonesly is proud to offer a safe, family, and friendly environment where students of all walks of life can learn to become their best self at Jonesly Mixed Martial Arts Academy.
Jonesly MMA
Unlock your potential today
The pricing table below is an easy to follow easy to use pricing schedule for all levels of commitment
Membership Pricing Available Inquire Within
* Limited Time Offer
Single class
Individual Class
Access To Professor Jonesly
Great For Beginners
Supervised Safe Environment
Sports Training Expertise
Optimized Athletic Performance
4 class package
Almost a 20% Savings
Access To Professor Jonesly
Great For Individuals With Busy Schedules
Best Package For Returning Students To Refresh Their Skills
Must Use Within 30 Days
Monthly unlimited package
Best Savings
Access to Professor Jonesly
Must Use Within 30 Days of Purchase
Allow Students To Progress and Elevate Their Skills
Best Package For Returning Students